The second Silk Cities international conference entitled, Reconnect population to urban heritage in the Middle East & Central Asia, was successfully held at UCL 11-13 July 2017. The Conference was comprised of three days of vibrant discussions, exchanges of ideas and collective activity to develop recommendations for the future of urban planning and design. Organised by Silk Cities and the Bartlett Development Planning Unit (DPU/ UCL), the event was also academically supported by the UCL Institute of Advance Studies, Oxford Brookes University and the Urban Design Group.
The region of interest, which is geopolitically referred to as the Middle East and Central Asia, is home to ancient settlements and early human endeavours that formed these cities. Urban historic characteristics such as historical city centres still exist in many cities particularly along the historic trade routes across the region, besides the contemporary exercises of city formation. However, the urban continuity that once existed across generations in physical and social paradigms has been interrupted in the midst of rapid urbanisation, globalisation and urban economic pressures, in addition to conflicts and frequent destructive natural hazards. Dealing with such pressing issues in a historic city is more complex than dealing with those in newly built cities and urban areas. Beyond the nostalgic admiration of those urban fabrics, there are many challenges that urban governance, professionals, and residents face on linking urban heritage, design, planning and development within urban transformation processes.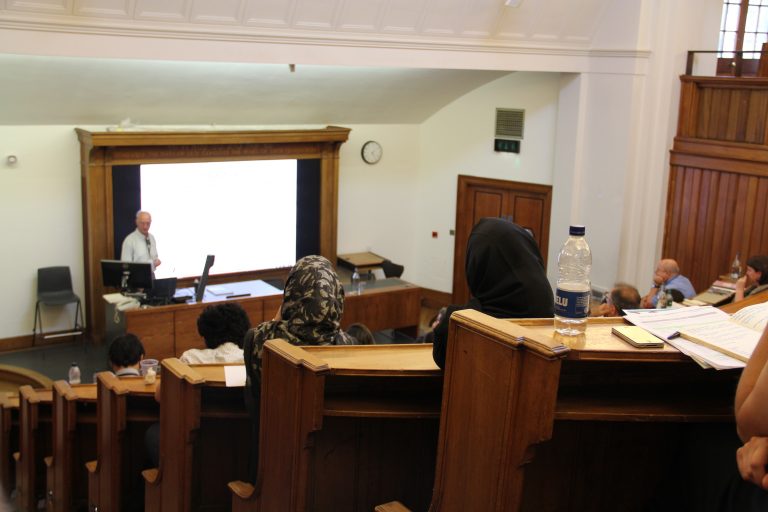 Taking a forward-looking approach, the conference applied cross disciplinary and cross sectoral perspectives to examine contemporary historic cities in the region. The conference brought researchers and practitioners to explore the discourse of this interruption on how to reconnect population to their urban cultural heritage in the Middle East and Central Asia. The combination of thematic sessions comprising of papers accepted by the scientific committee, panel discussions, and special sessions by guest speakers acted as a cross-generational tool and created a bridge between the younger and more experienced generations, as well as bringing together academia and practice.
We were excited to hear delegates' positive feedback on the geographic diversity and multidisciplinary nature of the event, provided through presentations and guest speakers. Accepted papers and guest speakers addressed the following geographic areas during the programme: Afghanistan, Bahrain, Egypt, Iran, Iraq, Mongolia, Pakistan, Palestine, Serbia, Syria, Tajikistan, and Uzbekistan.
The Conference opened with welcome messages by Dr Fatemeh Farnaz Arefian, founder of Silk Cities, and Professor Julio Davila, director of the Bartlett Development Planning Unit, UCL. Discussions started with a special session to set the scene by linking urban heritage, planning, and development, through an in-depth case study of the Walled City of Lahore over the time span of 10 years, inspiring important questions such as what constitutes urban heritage and how a relationship between heritage and development can be strengthened through daily planning.  
Days one and two were dedicated to intense academic and practical discussions around thematic topics and special sessions with 77 participants. This was represented by the 26 paper presentations as well as 7 talks delivered by guest speakers. Each day included both thematic sessions and special sessions. The format of each session was designed in a way to allocate enough time for the flow of deeper discussions. Guest speakers also shared their insights and experiences that collectively, along with the thematic sessions, shed a cross-sectoral and multidisciplinary light required for multi-dimensional examinations of the subject matter. Accepted papers were grouped around the thematic topics listed below:
Urban heritage and cultural identity
Governing urban heritage
Post-crisis urban reconstruction in historic contexts
Urban economy in an inclusive society in a historic city
Potential policy transfer on urban heritage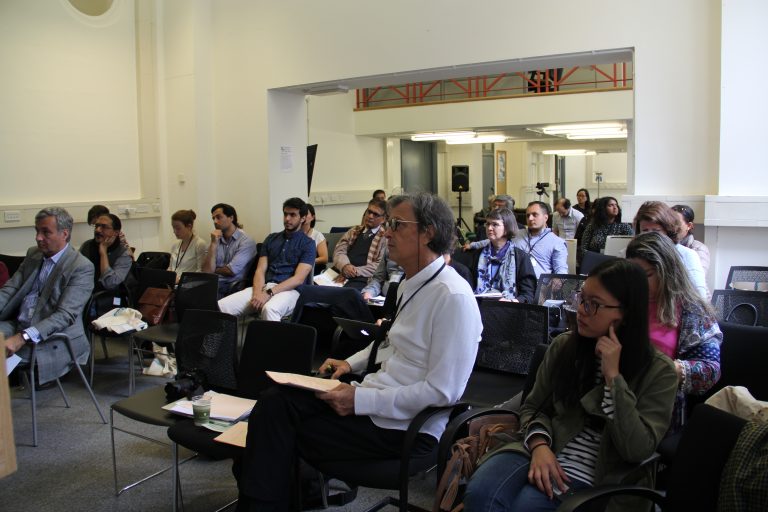 The sessions on urban heritage and cultural identity, presented a diversity of approaches to rethink heritage and restoration through acknowledging and integrating cultural identity, questioning the relationship between this history and the region's physical and social trajectory, the notion of modern and contemporary heritage, the dynamics between urban heritage and cultural identity, the linkages between old and new urban fabrics and monuments, and regional political factors leading to the core questions of what heritage means, who it is defined by, who that definition benefits, and how that definition is represented in urban development practice.
The session on governing urban heritage included presentations on the importance of public spaces around heritage locations in connecting migrant populations to their city and the emerging holistic approaches to fieldwork, with a focus on connecting residents to their own heritage. Furthermore, the session discussed the challenges of conducting participatory urban design and the associated mental constraints through the examination of roles and relations of various actors. A particularly interesting line of thought came from questioning popular practices of planning, conservation, and development as a result of unequal power dynamics within cities. The timely session on post-crisis urban reconstruction in historic contexts brought together various cases of such reconstruction together and built a solid ground for multidimensional examination of addressing urban heritage and identity with reconstruction of destructed historic cities, with a specific focus on housing reconstruction and the reconstruction of the city beyond the restoration of its renowned monuments, such as citadels.
The session on potential policy transfer on urban heritage highlighted the importance of the institutional arrangements and change if required, as well as leadership and impartial understanding of the multidimensional consequences of large or small-scale interventions and policy formulations.  The session on urban economy brought together cases of on-going commercialisation of religious heritage sites and the negative impacts of urban life and structure on cities. Furthermore, an examination of potentials in connecting the smart cities concept to historic cities in the region, honed in on connectivity and walkability as two main components of urban life and economy.   
In order for the conference to be an impactful activity on a larger scale, Silk Cities has teamed up with Springer International for a book publication based on a selected number of papers after a second peer review of the submitted full papers.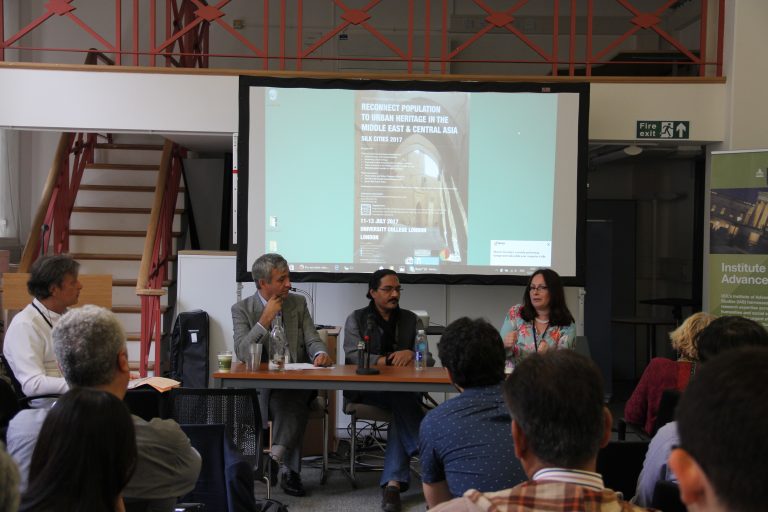 A panel discussion on preservation and planning in practice, confronted two approaches on governing urban heritage and urban managerial approaches: one was to a creative social approach of building and mobilising social capital for heritage-based urban development, while the other was an exploration of the top-down approaches to heritage management. The case study in Naragh brought out discussions on how sites of historic value can be successful in reviving traditional skills and ways of living without being overly commodified or subject to touristification. The renewal project in Ulaanbaatar showed a projection of ways to preserve traditional heritage, while balancing out the demand for high-rise development in the city.
Another panel discussion zoomed in on the dynamics of socio-cultural factors that affect lives, and we discussed architecture, urban spaces, people, and the reality of challenge on how to work with the multi-scalar levels of identity. A talk on culture, symbolism and the built environment discussed how a number of people have used astrology for the designing of buildings, linking astrological symbolism and architecture, and then neighbourhoods and the whole city. An examination of comparing the change in the forms of urbanisation (soviet – post-soviet) in Dushanbe focused on the interaction between culture and policy, showing that reconnecting population with urban heritage depends on great minds that bring together a variety of moralities with different social and cultural norms. At the urban space scale, the example of Registan square, raised critical questions on who does what to whom, and why? Heritage is about selectivity, power and politics on asserting local, national and international interests; tensions between authenticity and a depiction of an "accurate" past; layers of history are removed, while others are highlighted; this affects people directly, creating spatial separations.
The last special session of the conference focused on the urban morphology and revisited the structure through Spatial Analysis (Space Syntax) used to investigate how people move and navigate in cities of the silk roads before and after major interventions in urban structures. Conflicts exist between a physical fabric that we want to preserve (heritage) and needs that cannot be accommodated in that physical fabric. In fact, this has happened in industrial cities in the last centuries as well. Another approach that appeared in our discussions was the "conservative surgery". Cities have to change and they do, but when changes conflict with integrity of old structure, they often damage the urban structure, in spite of partial survival of traditional fabric. The importance of understanding the spatial patterns or "essential structure" and the need for a shift of fundamental knowledge that uses complex models, such as an analytical tool for assisting in decision making rather than solving the problem was discussed.
In addition to facilitate intellectual discussions, the aim was to enable social interactions and informal discussions amongst attendees. A reception was held in the evening of the first day, which acted as an ice-breaker for further social interactions. Delegates welcomed the live traditional music performance from the region that triggered interests and further questions.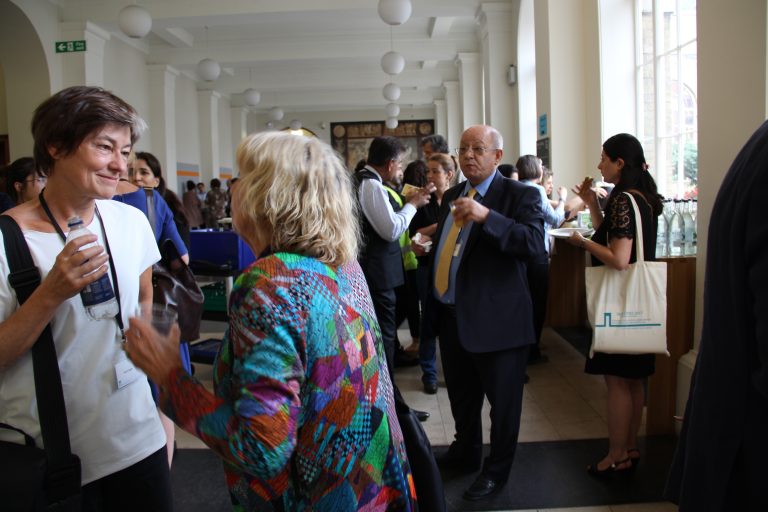 On the final day of the conference, an "Urban café" exercise was held to provide a mechanism for participants to review their experience and observations of the conference, its presentations and interactions. The highly engaging and buzzing workshop facilitated individual reflections on what was good and what could be improved. This was further elaborated in the small group discussions to develop recommendations for the future, as part of a general Programme of Activities. In the plenary discussions that followed the group presentations, an outline on indications for an agenda for immediate action was developed. These were summarised and presented to the plenary in the final session, such as running regular conferences, workshops and publications. The full report on the next steps and the Programme of Activities will be shared with the delegates.
A guided walk through the King's Cross area of London to Camden Town marked the end of the Conference. King's Cross is one of Europe's largest city regeneration schemes with 20 historic and 30 new buildings set in new streets, squares and parks. The group walked along the Regents Canal, which was completed in 1820, to Camden Town with its famous markets and street art. The walk was guided by two experienced urban development and planning professionals, and included historical and present day references to housing, transport, culture, migration and industry. It was both informative and fun!
We look forward to the next steps!